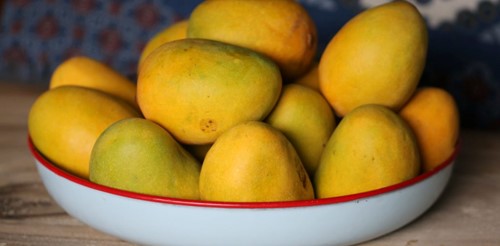 Our kitchen team have been working hard on new menu ideas and dishes for Seasons Restaurant – we make certain that we are frequently adding fresh produce and local ingredients as they come into season.
Kamil's Scallops, mango & basil salsa with a sweetcorn and mango velouté is a fragrant and colourful combination of lush golden mango with vibrant green basil and succulent scallops.
The mango and buckthorn gel can be made the day before as it requires setting time and don't worry if you haven't used buckthorn puree in a recipe before. It can be found in whole food or health food shops and on-line. The buckthorn berries come from a small tree that typically bears thorns and berries. The berries have a sharp and tangy taste and are full of Vitamin C and antioxidants. Agar-agar which is used to set the gel is a natural vegetable gelatine counterpart. It is white and semi-translucent when sold in packages as washed and dried strips or in powdered form.
Ingredients
Two good sized trimmed scallops per person for starter dish, or four for a main course.
For the mango and buckthorn gel
450ml mango purée
150ml buckthorn purée
70ml white wine vinegar
25g sugar
8g agar-agar
100ml water
4g salt
For the mango and basil salsa
1 mango
1tsp mango purée
6 basil leaves, finely shredded
1 lime, juice only
For the mango and sweetcorn velouté
1 cob of sweetcorn
100ml mango purée
50ml of Chardonnay
50ml double cream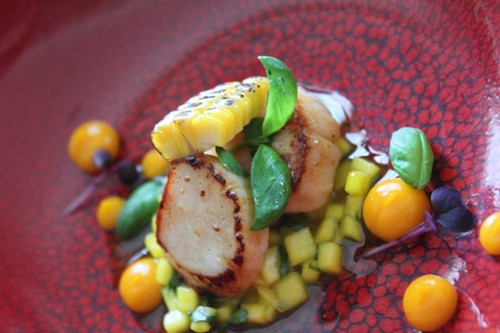 Method
Mango and Buckthorn Gel
Mix agar, sugar and salt together
Put the buckthorn puree and vinegar in a small pan and bring to boil, add the sugar, agar and salt and boil for a minute
Pour into a shallow container and let it set overnight
Blitz until it has the consistency of a set jam
Scallops
Remove the scallop roe (if present) and trim off any sinew from the edges
Heat a frying pan with a drizzle of vegetable oil or clarified butter
Place each scallop in the pan one by one, moving clockwise and searing each one for 3 minutes, then turn to seat the other side in the same way
Once both sides are golden brown, remove from the pan onto kitchen paper, sprinkle with a little salt and a twist of pepper
Mango and Basil Salsa
Peel and dice the mango into 0.5cm cubes
Combine with the mango purée, basil and squeeze of lime juice
Mango and Sweetcorn Velouté
Remove the corn kernels from the cob with a sharp knife and transfer to a small pan
Cover with wine and reduce until approximately half of wine remains
Add cream and reduce, for thick consistency
To finish, add mango juice and boil for 1 minute
Blitz with a hand blender until smooth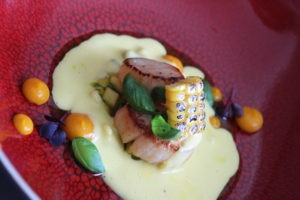 To Serve
Place the salsa in the bottom of a bowl and set the scallops on top of the salsa. The gel is dotted (a teaspoon at a time) around the scallops and salsa. To finish, pour the warm velouté around the scallops and salsa.