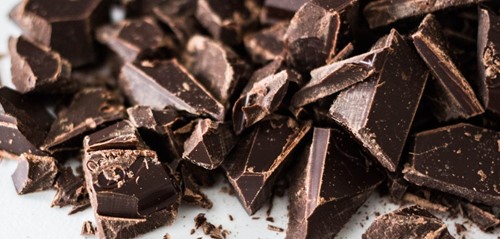 The Pittenweem Chocolate Company and their Cocoa Tree Café is a year-round haven in the heart of the picturesque village of East Neuk and perfect at the end of a coastal walk on Scotland's beautiful east coast. We went along to meet the Pittenweem Chocolate Company's owner – Sophie Latinis to find out what inspired her to start the business and why she chose the East Neuk.
Were you born in Scotland?
No, I was actually born in Belgium and raised in Africa. I discovered Pittenweem while I was still based in Zimbabwe, when travelling in Scotland. I was either going to move to Cape Town or the East Neuk of Fife and Scotland won!
When did you start the business and why chocolate?
The business opened on 13 July 2007. Many people ask me why I chose chocolate and it's simple really. I always loved chocolate as a little girl – my grandmother would try to hide it but I'd always seek it out! I was brought up in a family that loved to drink lots of hot chocolate too. It became a career because while I was working in fashion design in Harare, I became friends with a family who arrived from Belgium to set up a chocolaterie. Eventually, I gave up my clothing factory and ran their chocolate business for them. I was hooked!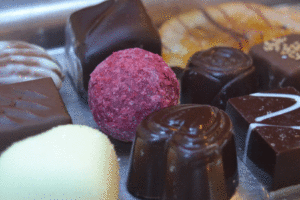 Artisan Chocolates from The Pittenweem Chocolate Company
What do you think is unique about the Pittenweem Chocolate Company and your products?
I am very passionate about showcasing fair trade, responsibly grown and unusual, exquisite flavours. I also have my own bespoke chocolate range – Handmade in Pittenweem. Our location is also unique and the wonderful community we live in has made such an impact on our life here. We source chocolates from around the world, usually through the people I meet in my travels and through work – I make a point of seeking them out. Also, sometimes, people hear about The Pittenweem Chocolate Company and they come to meet me. Of course, I then taste the chocolates! I know what I love and what will be popular in the shop. I love to find small artisan chocolatiers because I have an instant empathy with them.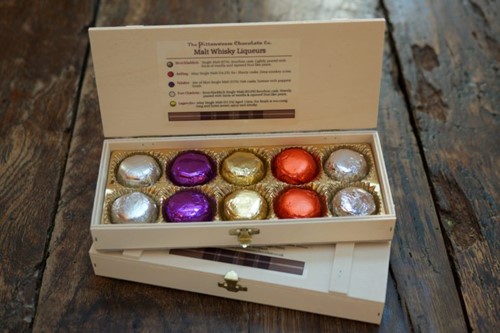 Single Malt Whisky Liqueurs sold at The Pittenweem Chocolate Company
Why did you decide to start making your own chocolates?
I wanted to play with flavours that I haven't found elsewhere and I love to use local ingredients. For example, I'm testing a porridge oats recipe and, I'm excited to be working with the East Neuk Salt Company, based in St Monans. Also, sometimes customers have requested flavours that I wanted to work on myself to get just the right taste. This was also the next step in growing the business and it's lovely to provide visitors with the opportunity to buy chocolates made in Pittenweem.
Do you have any events or special occasions coming up in the next few month?
We host and attend special events throughout the year – we travel to lots of markets in Scotland, plus exhibitions and chocolate events around the world. Also, we stay open for the kids guising (trick or treat) at Halloween – of course, we give them chocolates! Santa visits us every Christmas too!
We recently posted an article about the hidden gems of Fife for visitors. Is there a particular 'hidden gem' that you would suggest to visitors to the East Neuk that you know and love but is perhaps off the beaten track?
Well, I absolutely love the East Pier Smokehouse in St Monans. It's a casual, yet stylish, seafood cafe – literally on the edge of the water. It specialises in just-caught seafood and smoked, local produce. For me, East Pier is the epitome of relaxed, coastal dining.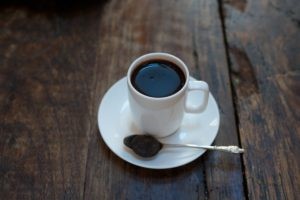 A specially hot chocolate made by The Pittenweem Chocolate Company
When you find time, what is it that you do to relax?
I love to be outside and enjoying nature. Typically, I'm taking coastal walks with my dog, Ella, or transforming my outdoor space at home into a kitchen garden.
If you would like to visit The Pittenweem Chocolate Company, they are open 7 days a week – 10am to 6pm – all year round except Christmas Day and New Year's Day. Dogs are welcome at their discretion.