Golf
In and around St Andrews
St Andrews is awash with iconic golf courses, including what is undoubtedly the most famous in the world, the Old Course. Rufflets has teamed up with some of the finest local courses, both in and around St Andrews, to secure you some great rates. Enquire with our team now to find out how to make the most of your trip to the ultimate golfing destination.
The Home of Golf 
Enjoy a brilliant golfing holiday in St Andrews, using Rufflets as your luxurious base. From here, we can organise you tee times on all of the St Andrews Links Courses, including Castle, New, Jubilee, Eden, Strathtyrum and Balgove. We are proud to be an authorised provider of guaranteed Old Course tee times.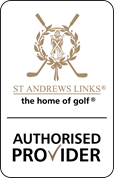 Please contact our reservations team on +44(0) 1334 472594 to discuss your perfect stay with golf. Our knowledgeable team would be delighted to tell you more about St Andrews Links official souvenir photography service, luxury transport options, and to help you secure dining in St Andrews' classic clubhouses and award-winning restaurants.
Immerse Yourself
It's not just about how many rounds you can play while you're here - there's so much more for golf enthusiasts to enjoy. 
For keen historians, a visit to the R&A World Golf Museum will provide hours of fascinating insight into the ancient game of golf, and a wander through the grounds of St Andrews Cathedral reveals the final resting places of some true golfing pioneers.
600 years of golfing heritage might best be appreciated when you have an expert on hand, and an Old Course guided walk is a must for any visiting history buff.
Have you ever tried hickory golf? Now's your chance! Just 10 miles from St Andrews, Kingarrock hickory golf course at Hill of Tarvit Mansion is the only remaining hickory course in the UK. The quirky 9 holes was established in 1924 (the same year that Rufflets House was completed), and only came back to use in 2008 after a 70 year hiatus.