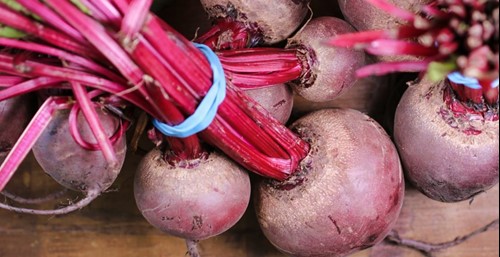 There are no better flavours than those that are truly seasonal. Head Chef David Kinnes combines delicious Cairngorm venison (one of the healthiest meats available) with the sweet and slightly earthy characteristics of home-grown beetroot and classic French dish Anna potatoes to deliver a plate full of taste. For best results, try baking and pressing the potato element of the dish overnight. On the day, reheating the potato and cooking the rest of the ingredients should only take around 40 minutes, therefore ideal for entertaining friends.
Ingredients for four
600g venison loin (bone removed)
300g salsify
1/2 lemon
150g girolles or wild mushrooms
150g beetroot (pre-cooked)
80ml red wine sauce
4 x large rooster potatoes
375g melted unsalted butter
Seasoning
Pea shoots to garnish (optional)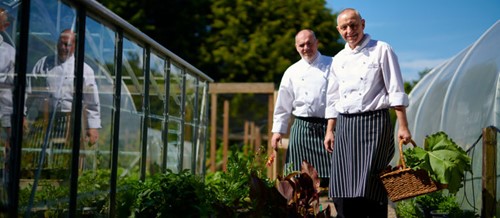 Chef's in the kitchen garden at Rufflets
Method
1. Trim the venison loin removing all sinew (or ask the butcher to do it for you). Cover and place in the fridge.
2. Peel potatoes and slice very thinly using a mandolin (or as thinly as you can with a sharp knife), place in a bowl of water to prevent browning.
3. Melt the butter, then drain and dry potatoes (paper towel works well). Line a small baking tray with parchment paper. Add one layer of potato, season and then some of the melted butter. Keep preparing layers until you have all potatoes and butter. Bake in a fan assisted oven at 165˚C/ gas mark 3 for approximately 1 hour. Once cooked, place a heavy object on top of them and press overnight.
4. Peel the salsify and place in a bowl of water which has had juice of a lemon added to it, in readiness to shave later.
5. Using a small sharp knife, scrape the stalks of the girolles, wash carefully and dry.
6. Cut pre-cooked beetroot into cubes.
To assemble the dish
1. In a hot pan, seal the venison loin with salt and pepper until golden brown, then place on oven tray. Cook for approximately 5 mins at 180 ˚C /gas mark 4. Once cooked leave to rest for 5 mins.
2. Portion Anna potatoes and heat in oven for approximately 5-8 mins.
3. Shave salsify into ribbons and heat in pan with girolles, melted butter and seasoning for approximately 3 mins. Drain once cooked.
4. Roast beetroot in oven for approximately 5 mins.
5. Warm red wine sauce (available from major supermarkets).
6. Place salsify onto plate with girolles. Slice the venison, place on top of salsify, add beetroot, Anna potato, drizzle red wine sauce around and garnish with pea shoots.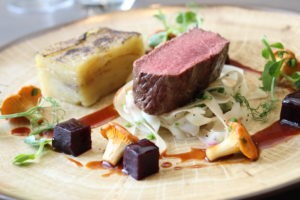 The finished plate
Why not come and try some more of David's recipes at Seasons Restaurant soon?