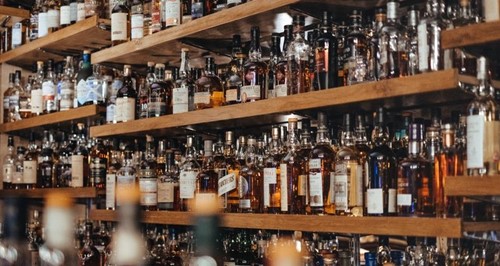 We caught up with Gavin Aitken at Rufflets for some advice on Scottish whisky and to find out what makes it the best.
How long have you been with Rufflets?
Fifteen years, man and boy!!
What does your day to day role involve?
Every day is different. This could include anything from selecting and ordering fine wines and spirits from our various merchants, to hosting dinner in our new Seasons Restaurant or master of ceremony duties at one of our many weddings. Plenty of chatting about golf with some of our guests visiting from overseas can also be a highlight.
What is a Scottish whisky?
The ingredients for making a Scottish whisky are barley, wheat or maize with some yeast and pure Scottish water. The distilled liquid is aged in oak barrels for a minimum of 3 years and 1 day (but usually much longer) before it can be called whisky. The famous single malts are the production of a single distillery, although not necessarily from the same year or oak barrel type, and are only made from the finest quality barley.
Which are the 5 Scottish whiskies you would recommend to a guest and why?
Here are some of my favourite single malts –
Scapa Skiren (Orkney) – Plenty of honey notes and richness from this un-peated Island malt.
Ardbeg Corryvreckan (Islay) – Incredible complexity, challenging flavours with plenty of peat smoke, medicinal notes and smoked meat! Perseverance is rewarding.
Highland Park 18yr (Orkney) – The first whisky ever bought for me in a pub. A fantastic all-rounder, creamy, full, spicy with some citrus notes. Still waiting for someone to buy me another dram!
Auchentoshan Three Wood (Lowlands) – One of the few triple distilled Scottish whiskies around, matured over time in three different oak barrels previously used for maturing sweet Oloroso and Perdo Ximenez sherry and bourbon from Kentucky. I use this a lot as a starting point for guests that do not have much experience with tasting whisky as they tend to love its smoothness and toffee and raisin rich flavours.
Balvenie 21yr Port Wood – What's not to love? Finest Speyside single malt aged in 30 year old Port pipes. Red fruits, floral notes and elegant throughout.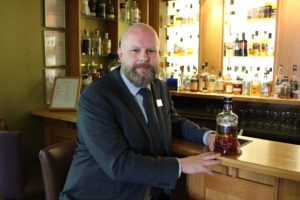 Gavin Aitken, Food & Beverage Manager
For guests who want to improve their whisky knowledge with some practical experience, Gavin has created whisky tasting evenings for individuals or small groups from Rufflet's own selection of over 100 malts. Tastings can simply be an informal chat across the bar with suggested whiskies or a more structured, pre-booked tutored tasting for groups of 4 or more starting at around £25 per person.