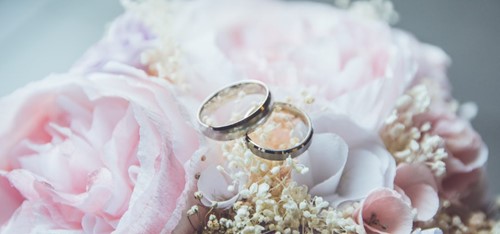 A – Accommodation. If you are getting married, you will probably need accommodation for family and friends travelling from afar. The individual charm and character of each of our 23 rooms is often a talking point. Located throughout the main house as well as in the recently-renovated Gatehouse, with additional self-catering lodges making up the accommodation within the hotel grounds, we have plenty of room.
B – Brochure. Whether you're just starting out on your wedding planning journey, or you already know that Rufflets is the venue for you, our digital brochure will help you picture how your big day might work. It's pretty comprehensive, but once you're ready to get down to the finer detail you can reach one of our team on 01334 460893, or send an on-line enquiry form at your leisure.
C – Ceremony. We can host up to 150 guests for a ceremony, either in the Garden Suite or out in the garden. There are lots of ways to get married in Scotland, and we're happy to steer you through the options for civil marriages, Humanist celebrations and religious ceremonies.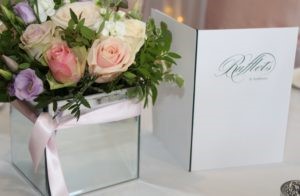 D – Décor. Whatever your theme, our Events Team have years of experience and an incredible eye for detail. They can help you create just the right look and feel for your day and add ideas for finishing touches you may not have even considered. Ask your coordinator to recommend the very best local companies who'll be able to help.
E – Exclusive. We understand the importance of your day and wanting to be in a space that is solely for you and your family and friends. We host only one wedding per day, even in the busiest summer months to ensure that we can deliver the ultimate in service to every wedding party.
F – Flowers. Our gardens and grounds really come to life in the Spring and our vibrant blooms provide the most colourful natural back-drop for wedding celebrations. Our team work closely with only the highest quality suppliers and can recommend creative floral design teams that specialise in exquisite wedding flowers.
G – Garden Suite. A stylish and unique setting for weddings, the Garden Suite is set within established gardens of the hotel bounded by mature yew hedges and ensures privacy and seclusion for wedding parties. The building is a marriage of contemporary design and traditional elegance, sympathetic to the features of the original country house and its surrounding landscapes. Stylish and bright, the interior of the suite comprises an entrance lobby leading in to the Long Gallery which provides a spacious reception room with its own bar. The Garden Room itself also boasts a bar facility and seats up to 150 for a wedding breakfast, with French doors opening onto a private west-facing terrace. The Garden Room can also be divided into two smaller rooms suitable for up to 60 guests for a wedding meal.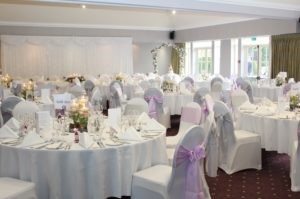 The Garden Suite dressed for a wedding
H – History. Rufflets was built in 1924 as a private home, before being bought in 1952 by George and Margaret Cook, and Anna and James Meldrum, who converted the house into a hotel. Rufflets was regarded as somewhat unique, not just in Fife, but in the whole of Scotland as country house hotels were rare. Fortunately the risk paid off and the business grew and flourished – a tribute to the hard work and entrepreneurial spirit of the founders. Today, more than 67 years on, the hotel is still owned and loved by the family of the original founders, and you'll be sure to feel the sense of passion and family spirit in everyone at Rufflets.
I – Intimate. The Garden Suite isn't the only option for a wedding day with us. If you want to keep things low-key, or are just choosy when it comes to guest list, why not consider a small ceremony and wedding dinner in the main house. Our perfectly appointed Drawing Room can accommodate up to 24 guests.
J – Just Engaged. Maybe we can help with an engagement celebration too! If it's an intimate dinner for family and close friends to share your exciting news or you would love to throw a party to shout your engagement from the roof-tops we can help with a range of event spaces.
K – Kilts. It goes without saying that a Scottish wedding venue like Rufflets sees it's fair share of Highland wear, but we also meet lots of Grooms from both home and abroad who prefer sharp tailoring to yards of itchy wool. In the heat of summer, we can assure you, a full kilt outfit is hard work!
L – Late Availability. We have a handful of Saturday dates remaining in 2019. For those who have perhaps enjoyed a longer engagement than planned, or like the idea of taking on a whirlwind wedding, there are plenty of perks to booking late including discounts, complimentary ceremony hire and upgraded package features. Explore dates and offers here.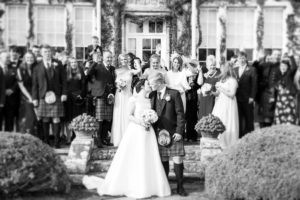 M – Menu. Our menus reflect our commitment to using locally-sourced ingredients and our kitchen garden's changing seasons. We offer a wide variety of dishes so you can tailor individual wedding menus, and include an opportunity to visit and taste a shortlist along with wines. We carefully consider options for guests with dietary requirements as well as catering for children.
N – Neuk of Fife. Our unbeatable location on the edge of one of the world's most historic towns means guests can easily slip off-site and explore atmospheric St Andrews or the stunning East Neuk coastline beyond, before or after the wedding. Our self-catering lodges make an ideal base for families who want to make the most of a wedding weekend in Fife.
O – Outdoor Ceremonies. There is something effortlessly romantic about an outdoor wedding ceremony and it's perfect for couples looking for natural inspiration. In a secluded part of the garden, surrounded by mature trees, hedges, floral displays and pretty pathways we have the most magical place to say your vows. Cross the iconic stone bridge as you walk down the aisle and exchange rings in the sunshine.
P – Photographs. Ten acres of beautifully landscaped gardens provide an idyllic backdrop with so many incredible spots to choose for your wedding photography. There's something for everyone, from wild flower-strewn woodland to manicured lawns and rose beds. Your photographer will be spoilt for choice.
Q – Quality. Our unwavering commitment to providing the highest levels of service are well-known and our team is one of the most experienced and long-serving in the country. The name Rufflets is synonymous with the warmest of welcomes and the finest food and beverage experience available, and we know that you'll leave us feeling that your wedding day couldn't have been better.
R – Reception. When guests have been fed and watered, and speeches and toasts made, it's time to let loose and really start the party. Whether it's a ceilidh band, covers band or DJ that you're looking for, our coordinators are happy to set you on the right track. We can host up to 170 guests in the evening, provide dance floor as standard, and have a range of evening buffet options to suit your budget.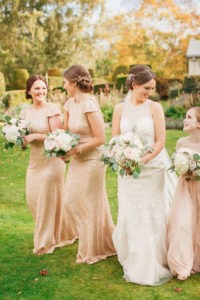 An idyllic backdrop for wedding photography
S – Summer Packages. We want the Rufflets experience to be available to everyone, whether money is no object, or you've saved hard for your dream day. If you can be flexible on dates, we offer exceptional value midweek packages. Prices start from just £70.00 per person. If you're planning a wedding for this summer or next, make an appointment to visit Rufflets.
T – Terrace. Our delightful sun-drenched terrace is the perfect spot to relax after the ceremony is over. Your guests can enjoy a glass of something while enjoying the fresh air and views over the formal gardens. As long as confetti is natural petals or biodegradable, throw as much as you like!
U – Ushers. The Groomsmen can provide valuable direction for guests on the day, especially when a ceremony is down at the bottom of the garden. If you get them properly briefed, they can gather all the right people together for photographs, and keep guests up-to-speed on what's happening next. As far as the formal announcements are concerned, leave it to the professionals. Our Master of Ceremonies will make sure everything is running like clockwork.
Stunning views from the Terrace
V – VOWS Awards. Rufflets is delighted to have been twice awarded the accolade of Best Wedding Venue Fife, Angus and Perthshire at both the 2017 and 2018 Scottish VOWS Awards – awards that are solely voted by brides and grooms from the previous year.
W – Wedding Coordinator. We recognise the importance of having a dedicated, knowledgeable and friendly point of contact for every bride and groom. From your first call or email and your very first visit, to the moment you walk down the aisle, our specialised wedding coordinators are with you every step of the way. They can answer every question in the planning stages, and ensure that the big day runs smoothly.
X – Xtra Mile. There's (almost) nothing that we won't do to make your day perfect!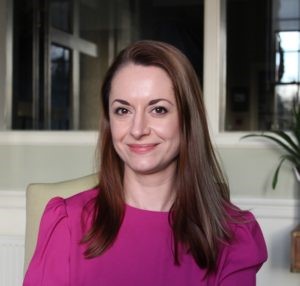 Louise - One of our wedding coordinators
Y – Young Guests. With acres of gardens and grounds Rufflets provides the perfect playground for younger guests to let off steam, and we have plenty of ideas to make sure the day is stress-free with wee ones around. We can help you plan a menu that works for children of different ages and can also provide high-chairs if needed. If you need a break, let us recommend a babysitting service.
Z – Zero Worry. Brides and Grooms have been placing their trust in us for decades. We have plenty of experience in all aspects of planning and delivering weddings, leaving you to enjoy treasured time with your family and friends.