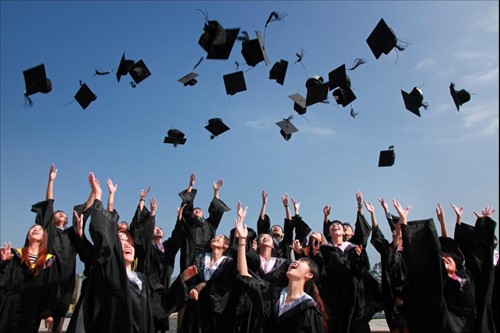 Founded in the early 15th century, the University of St Andrews is the oldest of the four ancient universities of Scotland's and the third oldest in the English speaking world (after Cambridge and Oxford). June marks the summer graduation ceremony for thousands of students who will celebrate the end of their studies in St Andrews. The ceremony that a student graduates in depends upon the degree subjects they have been studying as there is also a December graduation.
June graduation ceremonies are spread over the course of a week commencing on Monday 24th June and concluding with Economic graduation ceremonies on Friday 28th June. As well as undergraduates and postgraduates collecting degrees, the University also awards honorary degrees to a host of distinguished individuals each year. Honorands in June 2019 include Sir Ian McGeechan, one of Scottish rugby's most popular and well-regarded figures who will be awarded a Doctor of Science (DSc). His Highness le Afioga a le Tui Atua Tupua Tamasese Tupuola Tufuga Efi, a Samoan political figure who was Samoa's head of state from 2007 to 2017 and Prime Minister of Samoa from 1976 to 1982 and again in 1982 will be awarded a Doctor of Literature (DLitt) along with Frances Morris who is the director of the Tate Modern art gallery in London.
If you are visiting during graduation week, you can expect St Andrews to be awash with family and friends joining graduates for their celebrations. Graduation ceremonies take place at Younger Hall.
During the ceremony itself, graduates hand their folded hoods to the Bedellus — the chief mace bearer. As they kneel on the cushion of the graduation dais they are capped by either the Chancellor or Vice-Chancellor, and the hood will be slipped over their head. Graduates stand up, take a step back from the dais, bow towards the Chancellor or Vice-Chancellor and continue to walk across the stage to the stage door where they are presented their degree certificate and documents in the anteroom.
Once all degrees have been conferred, an academic procession – headed up by the key figures in the University and including all new graduates – makes its way through Younger Hall, down North Street and ends in St Salvator's Quad.
Families, friends and guests have an opportunity to meet the new graduates in St Salvator's Quad at the end of the academic procession. Each day, after the afternoon graduation ceremony has concluded, the University hosts a celebratory garden party for the new graduates and their guests.
A short service of thanksgiving is held each day during graduation week in St Salvator's Chapel. Services last for around 30 minutes and all graduating students, their families and guests are invited to attend.
For many friends and family unable to attend there is also an opportunity to watch the graduation ceremony live. The stream starts just prior to each ceremony.
The University's motto is 'Ever to Excel', which was taken from a speech in Homer's Iliad.
It's not too late to book graduation celebrations with friends and family at Rufflets. Give one of our team a call on Tel: 01334 472594.