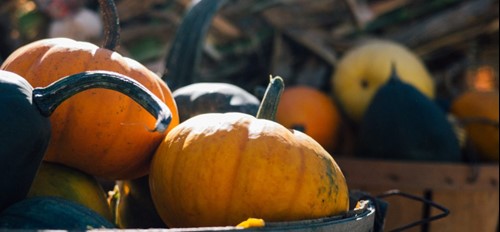 Get set for the next half term holiday with our ideas for events and activities happening across Fife during October. As well as lots of spooky fun during the Halloween weekend, the St Andrews Photography Festival gets underway at the beginning of October and Scotland's only festival dedicated to the voice and vocal music takes place in St Andrews next month too!
4th – 27th October. This year's St Andrews Photography Festival will explore the theme of 'Science & Photography'. The Festival will run throughout the month of October in various indoor and outdoor venues around St Andrews, including The Byre Theatre. Exhibitions are designed to show how photography evolved with the help of scientific advancements and how photography is used as a vital tool in various fields of science along with demonstrating how science has inspired photographers to create art. Events will include a film series presented in partnership with the School of Film Studies. See the Festival and Byre Theatre websites for further information.
5th October – A new St Andrews Street Market was launched by Fife Farmers Market with the aid of a new Regional Food Fund in June and has proved a massive success. The markets provide visitors an opportunity to experience locally produced food and drink, chat to the makers and enjoy attractions like cookery demonstrations, local crafts and family entertainment. Taking place on Market Street in the centre of St Andrews, the new market is car free for the duration of the event. The market features seasonal produce, with anything from organic vegetables to heritage pork and local farmhouse cheese. Each market brings a variety of different entertainment including cooking demonstrations, children's activity area and music and theatrical arts.
16th October – At the University Observatory, the James Gregory Telescope is open every first Wednesday of the month, between 7:00 and 9:00pm. This is a chance to see the biggest telescope in the country in action, particularly recommended when the night is clear. An astronomer is always on hand to give a tour and answer questions.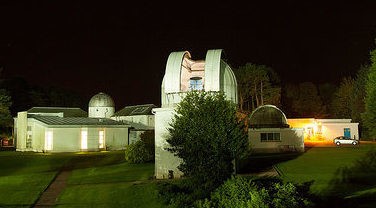 St Andrews Observatory
17th to 20th October – St Andrews Voices present a varied programme of events showcasing the versatility of the human voice in an amazingly broad spectrum of genres including opera, cabaret, lieder, folk, spoken word, choral, a cappella, early music, new music and more. The festival runs during the day and night and includes family concerts, opportunities to sing-along and get involved, as well as free events to enjoy while relaxing with a drink. New for 2019 and not to be missed, St Andrews Voices is proud to welcome award-winning light-projection artists, Luxmuralis, to Scotland for the first time. Joining forces with the Festival's 2019 Ensemble in Residence, The Gesualdo Six, they will create a truly spectacular and immersive light/voice experience drawing on the theme of space. The town-wide project features internal Son-et-Lumiere, artworks, and sound and light installations that will transform the interior of some of St Andrews' most beautiful spaces. Tickets are on sale from the Byre Theatre and a full programme of events by clicking here.
26th October – Tickets are now on sale for the annual Craigtoun Country Park Halloween Event. There is a fancy dress parade and lantern competition as well as lots of activities for the family to enjoy including a disco. 4.30pm-8.00pm. Tickets are £8.00 and need to be purchased in advance. Tel: 01334 472013.
26th and 27th October – Being flanked by farm fields, Rufflets is proud to be an active supporter of The Ploughing Championships – an outdoor agricultural show held at Bowhouse Farm, St Monans, Anstruther. The 57th Scottish and 22nd European Vintage see the Scottish Team returning from the Five Nations Challenge in County Carlow, Ireland.
31st October – As well as the Pumpkin Festival and an opportunity to buy and carve your own pumpkins, Cairnie Fruit Farm's Halloween torch light Maze takes place on 31st October. It's not an event for the faint-hearted and tickets are limited.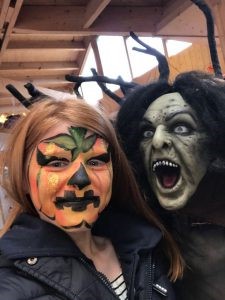 Don't miss Halloween fun this month!
If you haven't made your accommodation booking yet, remember our own website will have the best rates available www.rufflets.co.uk