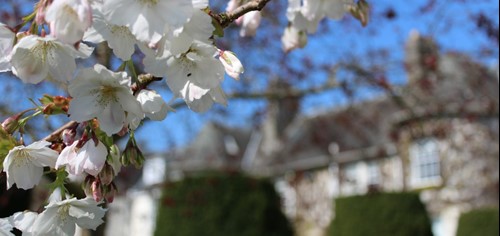 If you're seeking the stimulation of poetic verse, the inspiration of a live food event or answering the call of the great outdoors, Fife has it all covered this month with a range of activities that can be enjoyed by the whole family. 
St Anza - Scotland's International Poetry Festival
St Andrews promises to be brimming with verse between Wednesday 4th and Sunday 8th March 2020. With readings, exhibitions and installations from some of the most exciting poets writing today, whether you are looking for light verse or spoken word to make you laugh and cry, if you simply need a poetic umbrella for a rainy day, it's not to be missed. An international line-up this year features poets and artists from Galicia, Belgium, Germany and the USA, as well as from Denmark, Sweden, Norway and Finland plus showcasing some favourite UK-based poets, artists, musicians, writers and filmmakers. Take a look here for more information or to purchase tickets. 
St Andrews Farmers Market
The local farmer's market provides visitors an opportunity to experience locally produced food and drink, chat to the makers and enjoy attractions like cookery demonstrations, local crafts and family entertainment. Taking place on Market Street in the centre of St Andrews between 9am and 1pm on Saturday, 7th March, every market brings a charge of stall holders and events and a variety of entertainment, children's activity area, music and theatrical Arts. 
Science Discovery Day 2020
The University of St Andrews is holding its annual Science Discovery Day on Saturday 7th March as part of British Science Week to give visitors the opportunity to explore the fun side of science and research. Exhibitions and demonstrations from researchers across the University will range from how to build an electronic rainbow to investigating explosive chemistry and the chance to see the stars in an inflatable planetarium.  The event is free for visitors and will take place between 10am and 5pm at the School of Physics & Astronomy, North Haugh, St Andrews, KY16 9SS.
St Andrews Charity Oktoberfest 2020
With an abundance of 'Gemütlichkeit', 'Gaudi', and 'guader Laune', alongside the help of Bavaria's finest brewery, 'Paulaner', enjoy Bavarian food, music, and most importantly, litres upon litres of beer on Saturday 7th March between 12 noon and 8pm at the Kinkell Byre. The St Andrews Charity Oktoberfest supports Tayside Children with Cancer and Leukaemia (TCCL) now for the tenth consecutive year. With their help, they have been able to build and refurbish a lodge in St Andrews where affected families can spend a vacation. Click here for more information on the events and tickets. 
Fife Whisky Festival
If you recover from Oktoberfest in time to take in the Fife Whisky Festival, it's not to be missed! Taking place in Cupar over the weekend of the 7th and 8th March, whisky-lovers can discover over 30 distilleries and independent bottlers from all over Scotland showcasing their whisky. Ticket price includes access to all tasting samples at exhibitors' stands, a tasting glass, water, and a £5 voucher which can be redeemed against a bottle costing £35 or more with on-site retailer, Luvians. 
Bowhouse Market Weekend
Returning to the East Neuk of Fie in 2020, the monthly Market Weekends at Bowhouse are free to attend, giving visitors the opportunity to meet, discuss and taste food and drink from Scotland's best artisan producers. The Market Weekends welcome the best of local and Scottish producers for a two-day showcase of their products with demonstrations, local musical performances and hands-on activities for all ages.  The first one will take place on Saturday 14th and Sunday 15th March with all the 2020 Market Weekends having coasts and waters theme, tying into Visit Scotland Coasts and Waters theme for 2020. There will be coastal walks which will depart from Bowhouse for seaweed foraging (March is the time for Brown seaweeds) and demonstrations for gathering and preparing bounty from the shore and the RSPB will be in attendance, with a series of bird themed activities for children as well as coastal bird spotting. 
Going Dutch: The Painting Collection at Hill of Tarvit
Explore the painting collection at Hill of Tarvit to discover how a love of golf inspired the owner – Frederick Sharp – to collect Dutch art. Join their curator and one of their specialist guides for an interesting two hour talk and tour of Hill of Tarvit's painting treasures. Built by Robert Lorimer in the Scottish Arts and Crafts style, Hill of Tarvit was designed to show off the Sharp's art collection. This tour will reveal the scope of the collection – from Raeburns and Ramsays in the library to a Brueghel in the bedroom – while focusing on the very personal reasons why a couple might invest in art.
Snowdrop Festival at Cambo Gardens
The annual snowdrop festival continues until end of March and is one of the best times to visit Cambo and enjoy the thousands of white blooms from the walled garden along the burn to the sea. Visitors can enjoy a walk in the gardens and snowdrop woods daily from 10am as Cambo Estate is transformed into a snowdrop wonderland, bursting with swathes of these delicate flowers, including rare blooms. On weekdays during the festival between 1.30pm and 2.00pm you can also join a whistle-stop tour which is free with your garden entry.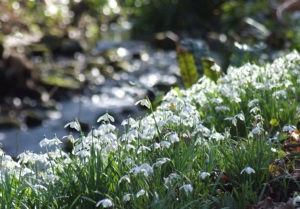 If you are planning a visit to St Andrews with the family and prefer the flexibility of your own self-catering accommodation, be sure to explore our winter getaway rates and enjoy 40% off our midweek (Monday through Thursday inclusive) and weekend rates until 31st March, 2020. There's no need to leave your four-legged friends at home, dogs are welcome too!