Emerge & Immerse Yoga Retreat
For mind, body and soul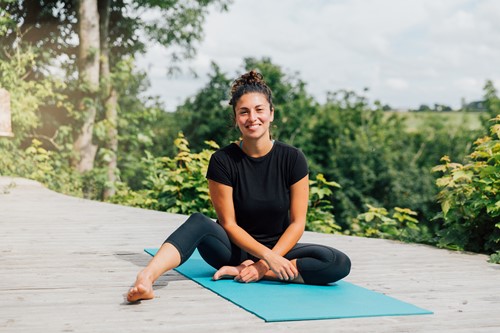 Naomi Watson - retreat leader.
Naomi's yoga teaching career began over a decade ago, and she works with a wide variety of people across different communities and countries.
Inspired by her background and training in Ashtanga, Yin and trauma-informed work, she offers a style of yoga which reaches the therapeutic level as well as providing the space for challenge and play.
Naomi invites you to explore and develop your knowledge and connection to your own body and truly nurture a sense of well-being through this unique experience at Rufflets. 
PROGRAMME
Friday
Arrive by 6pm
Orientation and introductions over pre-dinner drinks
7.30pm - 8.30pm Dinner
Saturday
8.00am - 9.00am Breakfast
10.30am - 11.30am Opening session - mindful immersion
11.30am - 1.00pm Energise and emerge - Yoga Asana workshop
1.00pm - 2.00pm Nourishing Ayurvedic lunch
2.00pm - 2.30pm Post-lunch Pranayama - guided breath work to aid digestion
2.30pm - 3.30pm Rest and replenish - restorative Yoga and Nidra
3.30pm - 4.00pm Tea break
4.00pm - 4.30pm Closing meditation
5.00pm Time to reflect - enjoy the grounds and facilities either in company or alone
7.30pm - 8.30pm Dinner
Sunday
Depart after breakfast or stay for lunch with a walk before or after a visit to St Andrews
This rejuvenating experience break is £845.00 based on two people sharing a Classic Room (£745.00 single occupancy).
Individual bookings are available on pre-advertised dates. If you are part of a group of 4 -8 guests, please enquire for bespoke availability on a private basis.
Dates
TBA
One day retreats are also available to book, and the next will be held on Sunday 30th October