Our Yoga Studio
Find Your Centre
The yoga studio at Rufflets is a short walk across the formal gardens from the main hotel and offers panoramic views of the lower gardens. It is an intimate space, suitable for small groups, and with easy access to 10 acres of grounds outside, every opportunity is embraced to take the class on a field trip!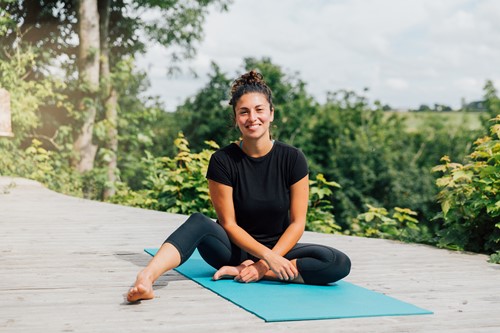 Naomi Watson - retreat leader.
Naomi's yoga teaching career began over a decade ago, and she works with a wide variety of people across different communities and countries.
Inspired by her background and training in Ashtanga, Yin and trauma-informed work, she offers a style of yoga which reaches the therapeutic level as well as providing the space for challenge and play.
Naomi invites you to explore and develop your knowledge and connection to your own body and truly nurture a sense of well-being through this unique experience at Rufflets. 
Mindfulness coach Claudia Ortiz joins Naomi on day and residential retreats to offer a fully-rounded program that will leave you refreshed and rejuvenated.